In 1922 Dr. Agnes R.H. Greig, an English surgeon practicing medicine in northern India, was given a female Tibetan Terrier puppy in gratitude for saving a Tibetan woman's life. Dr. Greig was intrigued with the puppy and eventually requested to show her at the Delhi Show in India.

The judges had never seen a dog like this before and suggested that Dr. Greig try to obtain a mate for her from Tibet, and to continue the breeding, to see if the dog bred true.

This Dr. Greig did and in 1924 on Christmas Day, the first litter of her golden Tibetan Terrier, "Bunti", and the male from Tibet, "Rajah" was born. Eventually, Dr. Greig showed three generations to the judges and the India Kennel Club. It was decided that this was a pure breed and should be called the Tibetan Terrier although the dogs were not true terriers.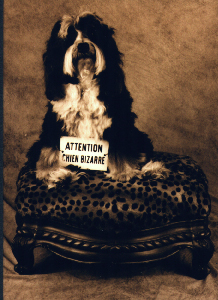 Photo by Petography, Inc.